5 Reasons Why Poured Concrete Walls Are Better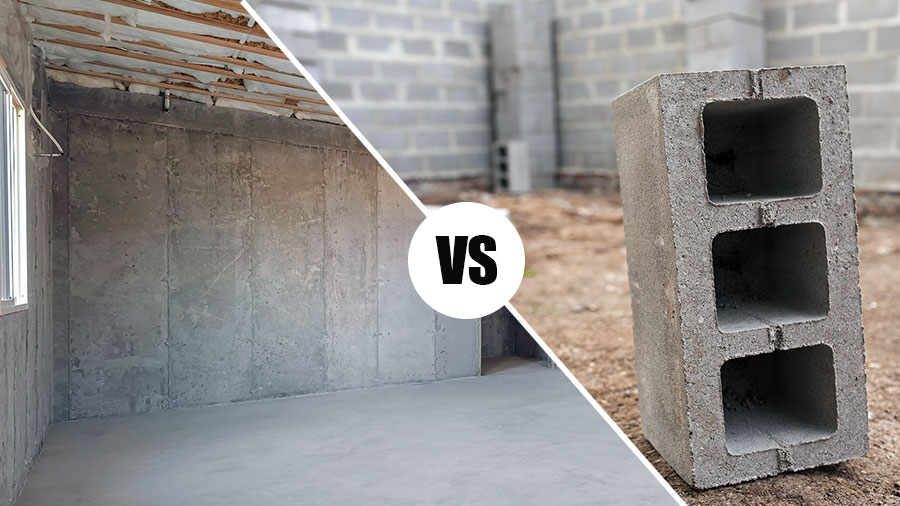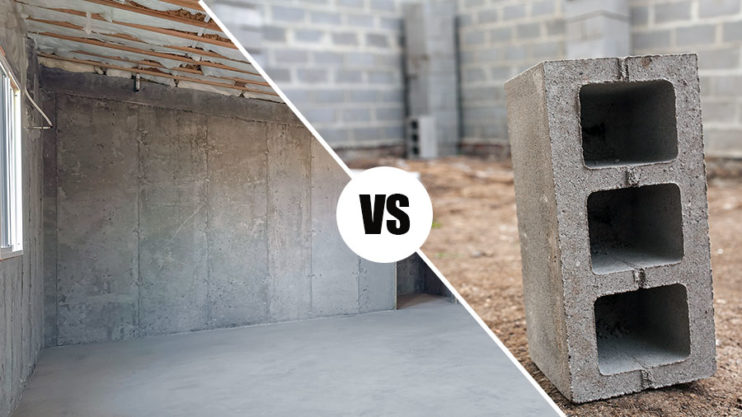 Poured concrete walls offer superior strength and durability for basement construction compared to cement blocks. They form a seamless, waterproof barrier, reducing potential leaks and weaknesses from joints in cement blocks.
Homeowners are partial towards one foundation type over the other. Yet, like everything else, each foundation type has its own set of pros and cons. So, without any further delay, let's begin!
Table of Contents
Block Foundation Walls vs. Poured Walls
Block foundations are in the majority of homes built before the 1970s. You can say it was a prevalent foundation type. Cinder blocks are capable of high compression strength. This means this foundation style can take considerable weight on its top.
Cinder blocks are ready-made and available off the shelf from big box stores. The blocks are easy to store and transport to a site. Poured concrete requires preparation before use, and concrete mixing trucks must travel a short distance to the construction site to keep costs down.
A drawback found in a cinder block wall foundation is they are more likely to suffer issues like buckling and bowing. Buckling and bowing result from poor construction or underground lateral water pressure. Thus, repairing them can be pretty expensive, depending on the extent of the damage.
Here is another downside for block walls; they are more prone to water leaks because of the number of joints between each block. The cores inside the blocks can also fill with water, saturate the blocks, and create dampness inside basements.
Unfortunately, cinder blocks will require skilled labor to lay each block down, adding to the building cost.
Where travel is difficult, remote locations benefit the most from cinder block construction.
Advantages & Disadvantages of Poured Walls
Undoubtedly, poured walls are a lot stronger than cinder block walls. They don't have joints like the ones found between blocks. The only joint found in poured concrete basements is the cove joint. This is where the floor meets the wall and sits on top of the footing.
Poured concrete walls have excellent resistance to underground lateral pressure imposed by the soil and water. It is why engineers and architects are turning towards them in increasing numbers.
A poured wall does not have mortar joints like a cinder block wall and is less prone to leak years after construction. There will be resistance against premature leaking or cracks.
During the construction phase, poured walls can pour onto any foundation. It is the preferred method for last-minute changes if uncertainty abounds during construction. Poured walls are not restricted to the same limitations as cinder blocks. Concrete can pour into any shape and size.
On the downside, poured cement walls can be more expensive than block walls when cement prep and production are far from the site. It is something to consider when building a home from scratch. Otherwise, poured cement is perfect for every type of foundation.
When you build a new home, your main priority should be to create the strongest and safest foundation possible. Poured walls have become the first choice of homeowners and builders. They are easy to construct and durable. They save you from issues like premature water leakage and frequent repairs.
Keep reading below to learn about some other advantages of poured walls.
5 Reasons Why You Should Opt for Poured Concrete Foundations
They Offer High Strength
Poured cement walls are hard to beat when it comes to their strength. They are durable and offer more flexural and compressive strength than block walls.
They Are More Resistant to Lateral Water Pressure
Constructing a solid structure that offers as much water resistance as possible is imperative. No matter how bad the climate gets. Poured walls are free from joints and are much denser than cinder block foundation walls. They will not give in as quickly to buckling or bowing.
They Are Fire Resistant
Poured concrete walls have the highest fire safety rating compared to cinder blocks.
They Offer Design Flexibility
Poured walls offer more design flexibility for builders. Regardless of the foundation type, they can opt for a change at the last moment. Builders start with a liquid form and build a mold into any shape and design. This is hard to achieve with cinder block walls.
They Are Low Maintenance
Poured concrete walls are lower maintenance. They have fewer joints, are better at withstanding lateral pressure, and are fire-resistant. It is possible to have no signs of cracks or water leaks in the first 5 to 10 years with exterior waterproofing.
Waterproofing a Foundation: Existing Homes & New Construction
In new construction, waterproofing the exterior foundation walls consist of a primer, membrane, and sealant. Drainage channels are sometimes stretched out along the footer to a dry well. Backfill dirt is bulldozed into the space between the foundation walls and the ground. The soil fills the area surrounding the house and covers all the waterproofing.
Both poured and block walls get the same treatment. Unfortunately, the exterior waterproofing doesn't last long against the powers of nature. The average lifespan of new home waterproofing is 3 to 5 years. If they did a great job, it might last ten years.
Exterior waterproofing does not last long. It is the reason why there are so many dedicated basement waterproofing companies available. It is not a permanent solution.
Existing homes can install an interior waterproofing system to manage their water problem. Interior waterproofing consists of subsurface drain tile (pipes) pitched along with the depth of the footing.
The drain tile is packed in stone, and the cove joint is covered with a drainboard and vapor barrier. The drain tile is pitched to a sump basket with a sump pump to discharge water away from the house. The floor is finally replaced with 3.5 inches of a code-compliant concrete floor.
Many companies will offer exterior waterproofing on existing homes. It's not only intrusive but also expensive and will not last long. Why do homeowners have basement water leaks if exterior waterproofing is so excellent?
Poured Concrete and Block Wall Foundation Costs
Is a poured concrete foundation cheaper than a block wall foundation?
Usually, the cost of construction varies from place to place. But as a matter of fact, poured walls cost about 20% less than block foundation walls.
Schedule a free, no-obligation inspection and quote at no cost.