If you want to control wet basement seepage, there are many choices, but there is only one way to stop it from ending up on your basement floor. We are going to tell you how.
You cannot command groundwater to stop its attempt to enter your basement because water will always find a way in and onto your concrete floor. They are molecules that carry minerals and assorted elements that breakdown concrete. Water will squeeze its way between the cold joint between your wall and floor, through cracks created by hydrostatic pressure and stairways leading to the basement.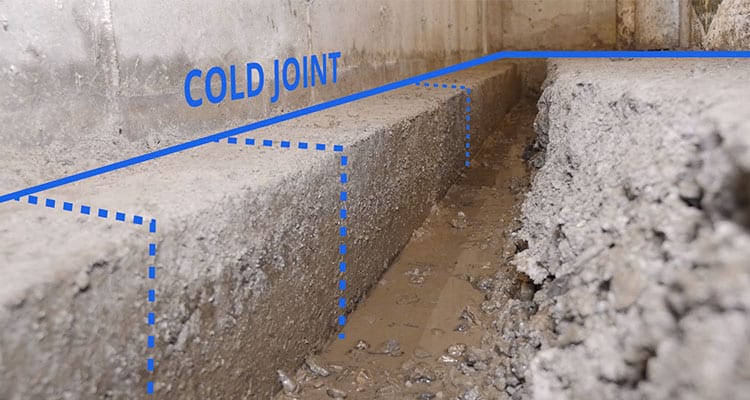 Basement seepage will eventually happen filling basements from very little to knee-deep and anywhere in between. Waterproof paint and Drylock cement are temporary fixes. They will buy you time, but chances are groundwater will be redirected to find another way in or overwhelm your DIY patch. Six months to a year later, you will find a leak in the same spot. Water wins almost every time.
The solution that wins time and time again is an adequately installed basement drainage system with a sump pump to discharge water. Nature is relentless and lacks prejudice. Your basement is taking on water because of the ground in your area perks more groundwater than in other places. Nature has a roadway going around your house.
The best way to keep water from ever entering your home is by building a roadway that can be more easily traveled: a drainage system. We use a combination of pitched 4″ pipe, deep below your floor, several hundred pounds of wash stones, a flow channel along the walls, a vapor barrier, and a proprietary waterproof concrete mix called SuperCrete.
Finally, the drainage pipes, 10 to 12 inches below your floor, are pitched to a sump basket with a 3/4 horsepower sump pump inside. A discharge PVC pipe sends collected water from the pump out and away from your house into a dry well or city sewer system.
If you help groundwater maintain its course, it will stay out of your way.
Learn More! Get more information about safeguarding your basement from water seepage by reading our page: FRENCH DRAIN INSTALLATION?
Call 888-748-2002 to schedule a free appointment with American Dry Basement Systems today!