French Drain Installation
Ten times more powerful than other drains.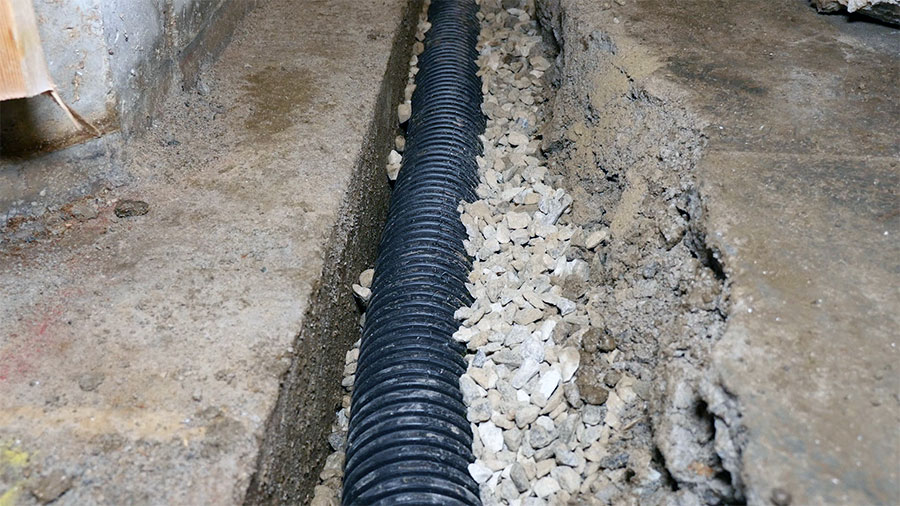 We install only french drains within our customized SuperDry waterproofing systems because they redirect water more effectively than competing systems. We install our french drain 10 inches below your floor. Ten times more powerful than systems that sit on top of your footing.
A french drain is called by various names, such as trench drain, perimeter drain, sub-surface drain, or drain tile. Ever since 1813, engineers and agriculturalists today have been using french drains to redirect groundwater to protect building or house foundations. French drains comprise three essential components: a human-made trench, perforated pipe, and gravel. It is still considered the best and most effective solution to control groundwater drainage.
Will a French Drain Protect My Foundation?
Yes. No other system can redirect groundwater as quickly and efficiently as a french drain. American Dry Basement Systems uses a unique installation process that integrates a 4-inch diameter french drain to guarantee the complete removal of groundwater 10 inches below your floor. The water is redirected to the french drain pipe, never visible or noticeable, and never touching your porous floor. Our french drain systems work in all types of foundations; three-piece poured, three-piece blocked, and stone. You most likely have one of these three foundations.
When Should You Install a French Drain?
The first telltale sign is when the humidity level in your basement or crawl space rises after every rainstorm or when the snow thaws. The next sign is a trickle of water on your floor coming from the walls, floor, or where the wall meets the floor. The final and most obvious is when your basement is flooded with water. Contact American Dry Basement Systems or call during our business hours, and we can schedule a free inspection. We will isolate the problem, tell you where the water is coming from and how it can be fixed, and give you a quote if you want to hire us to fix it.
Do you notice any of these warning signs?
You always find water on your floor a day after a big storm.
A poorly installed waterproofing system or sump pump malfunction.
Efflorescence (white or red powdery stains on walls).
Walls or floors have cracks.
A distinct musty odor.
Walls appear to be bowing inward (in extreme cases).
Water seeps out where the wall and floor meet.
What are the advantages of having an interior french drain system?
No excavation or damage to outside landscaping, driveway & deck.
It can be installed in townhouses/condos or other communities with restrictions.
Most installations are completed in one to two days.
Interior french drain systems cost less than exterior systems.
American Dry Basement Systems offers a lifetime transferable warranty. Exterior systems have a limited warranty for usually ten years.
Your floor and walls are strengthened using our proprietary concrete mix. You are getting a new waterproofed foundation back.
French Drain Installation Procedure
American Dry Basement Systems provides a french drain system installation like no other. Every waterproofing contractor is different; some cut corners, some stick with old methods with limited reliability, and some reinvent waterproofing with slick marketing to benefit their pockets, not the customer. We pride ourselves on using the best techniques in basement waterproofing and combining them to give our customers the absolute best waterproofing solution.
We clear the area by moving large items to the center of the room. We cover all items, vents, and smoke alarms with plastic sheets and wrap.
There are two control points for dust. One uses a full-room negative air machine venting outside the room, and the other is our proprietary "enviroboot" attached to the jackhammer we use to remove floor sections. The "enviroboot" connects to a HEPA vacuum filtration unit which immediately removes airborne dust and debris produced by the jackhammer.
We jackhammer out engineering tabs around your floor (if we are not replacing another system), so we can keep your floor on the footing and against your walls.
Weep holes are drilled in both poured (keyway joint) and blocked walls to assist in water drainage.
Dirt is removed to create a trench dug out approx. 10 inches deep around the room's perimeter, including the pit for the sump pump station (basket and lid).
We installed an ADS four-inch perforated pipe along the bottom to the top of the footing allowing it to pitch toward the sump pump station.
The ADS pipe is packed in 3/4-inch washed stone. This method of drainage is proven to be infallible when installed correctly.
A dimpled drain board with high compressive strength and flow capacity is custom-cut to match your footing size. It is installed along the wall and across a portion of the trench.
A 6 mil vapor barrier is draped over the drain board and stone.
We install a 3/4 HP cast-iron sump pump with a backup pump and battery into the sump pump station. The status of the battery and pumps are available 24/7 through wifie on your mobile phone or computer or directly through the status indicators located on top of the battery.
A y-connector with a check valve allows both pumps to discharge water through the same discharge pipe to the outside through the wall or to an existing sewer/septic discharge pipe inside.
The discharge pipe outside your home will send water into an installed corrugated four-inch pipe packed in stone below the ground. The pipe will run safely from the house to a dry well bubbler pot.
We spread our proprietary concrete mix SuperCrete over the vapor barrier, wash stones, and drain board. It will replace your four-inch floor to its code-compliant condition.
In an unfinished space with exposed unpainted walls, we apply four feet of SuperSlurry from the floor up on the walls. It has the same crystalline properties as our SuperCrete Product.
All broken cement, dirt, and debris are removed during installation. Final post-mess removal is completed at the end to leave the job site clean and clear.
Do you need basement waterproofing?
Get a free in-home estimate.
We can find the perfect solution.
Give us a call at
203-775-7900
.
Licensed & insured to serve in the following areas:
Connecticut Counties:
Fairfield, New Haven, Litchfield, Hartford, Middlesex, New London, Tolland, and Windham.
New York Counties:
Westchester, Dutchess, Putnam, Orange, Sullivan, and Ulster.