Wet Basement or Crawl Space?
Mold and mildew odors?
Serving Connecticut & New York
Eliminate your basement water problems TODAY!
Working Hours
Mon - Fri 9:00am - 8:00pm
Sat 9:00am - 1:00pm
---
[show-testimonials alias='Dual-Slider-3sets']
Don't let other basement waterproofing contractors destroy the structural integrity of your home.
Avoid making these mistakes.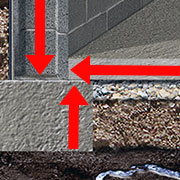 Make sure the basement 'Trio' remains intact.
Never separate the original contact between the basement walls, footing, and your one-piece slab floor. They are a strong combination. Once the floor is removed from the footing, you will take away the force to hold your walls out.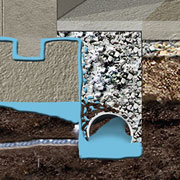 Never install drainage below the footing depth.
Groundwater will begin the process of eroding soil from under the footing which can have a catastrophic effect on your home's stability. A poor installation will produce large quantities of dirt in your sump pump basket.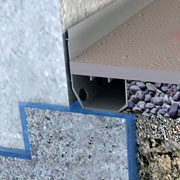 Shallow drainage systems break the 'Trio.'
Once the 'trio' is gone, you compromise the structural integrity of your home. Shallow systems allow groundwater to touch the bottom of your floor, making it feel damp. Expect to add special flooring and ventilation.
Our SuperDry system is a carefully designed full perimeter drainage system with a 3/4 HP sump pump on the backend to effectively remove water during the worst super-soaker storms.
The Absolute BestBasement Waterproofing Systemin the Industry.
We offer a 'best in class' installation and customer service.
---
Never worry if your sump pump is working. Get weekly status updates and alerts any day or night on your mobile phone. Even if the power goes out!
Waterproofing by professionals.

We don't sub out contractors. We use our own crews.

We are experts in waterproofing.

Our business is laser focused to do one thing really well.

We follow ICC's code compliance.

Floors are returned to their original thickness of 4 to 6 inches. Future-proof your resale value!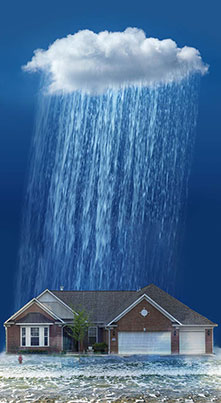 A lifetime warranty.

It is completely transferable to the next owners.

Waterproof to finish-ready.

Drywall, carpet, furniture and storage safe basement or crawl space. Ready to use.

We install a robust system.

We put more work & materials to install our systems than our competitors.
Reclaim Your
Basement or Crawl Space
Join our 50,000+ customers who have peace of mind knowing their home will always be dry.
GET A FREE QUOTE